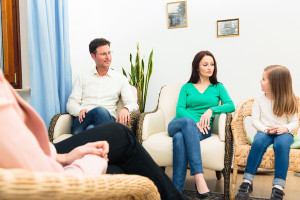 Often family therapy is an effective means of addressing a child or adolescent's emotional needs. Family therapy is a dynamic and engaging process that is goal-oriented. Family members engage in new ways of relating to one another in the therapy process and tasks may be assigned for the family to practice new behaviors between sessions.
Family therapy may be used in addition to individual therapy or it may be the primary mode of treatment.
Although having a partner in life is wonderful, it also poses many challenges. Conflicts are an inevitable part of marriage or any intimate relationship. When working with couples, I integrate Gottman Method Couples Therapy with cognitive and behavioral approaches to build relational skills and help partners stay connected, even during conflict and difficult life transitions.
Couples therapy can be demanding! It requires that each partner look at his or her contribution to relationship issues. I commonly assign partners new behavioral practices that need to be carried out between sessions. If you are ready for lasting change in yourself and your relationship, call me to discuss how couples therapy can help.
To find out more about Tricia J. Mlnarik (LMFT) family counseling services, please visit familycounselingsanjose.com