Tricia Mlnarik
Licensed Marriage and Family Therapist (LMFT)
Tricia (she/her) is a DBT-Linehan Board of Certification Certified DBT Clinician and specializes in using DBT to help clients heal from traumatic experiences. She enjoys working collaboratively with clients as experts of their own experiences and goals.
 Tricia holds dual licensure as both a Marriage and Family Therapist and a Professional Clinical Counselor. She began training in Dialectical Behavior therapy in 2007 and has completed Adolescent DBT Training in 2008; Intensive Training, led by Marsha Linehan, in 2010; DBT-Prolonged Exposure protocol by Drs. Melanie Harned, Kathryn Korslund, and Marsha Linehan in 2015; and Advanced DBT-Prolonged Exposure by Drs. Melanie Harned and Lorie Ritschel in 2021. Tricia holds a Master's degree in Counseling Psychology from Santa Clara University.
Tricia was part of the Mid-Peninsula DBT team from 2007-2010 and then was fundamental in developing In-the-Moment DBT (2010-2014) and Wise Mind DBT (2014-2017).
 When not working Tricia likes to hike and spend time with her daughters.
Lori Wilkinson Rella
Licensed Marriage and Family Therapist (LMFT)
  Lori (she/her) enjoys DBT's balanced approach in helping clients learn to both accept their lives as they are and to work toward change. She especially enjoys working with teenagers and clients from the tech world, and specializes in grief and loss.
Lori completed foundational training in DBT with Drs. Jenifer Sayrs and Elizabeth Dexter-Mazza in 2016; DBT-Prolonged Exposure protocol with Drs. Melanie Harned and Sara Schmidt in 2019; and Advanced DBT-Prolonged Exposure by Drs. Melanie Harned and Lorie Ritschel in 2021. Lori is currently working on the certification process through the Linehan Board of Certification. She earned her Master's degree in Counseling Psychology from Santa Clara University and has experience and interest in working with clients through grief, loss and trauma and with clients in the LGBTQ+ community. Before graduate school Lori worked in high-tech in the finance and technology sectors.
 Seeing live music, running, and family keep Lori occupied in her free time.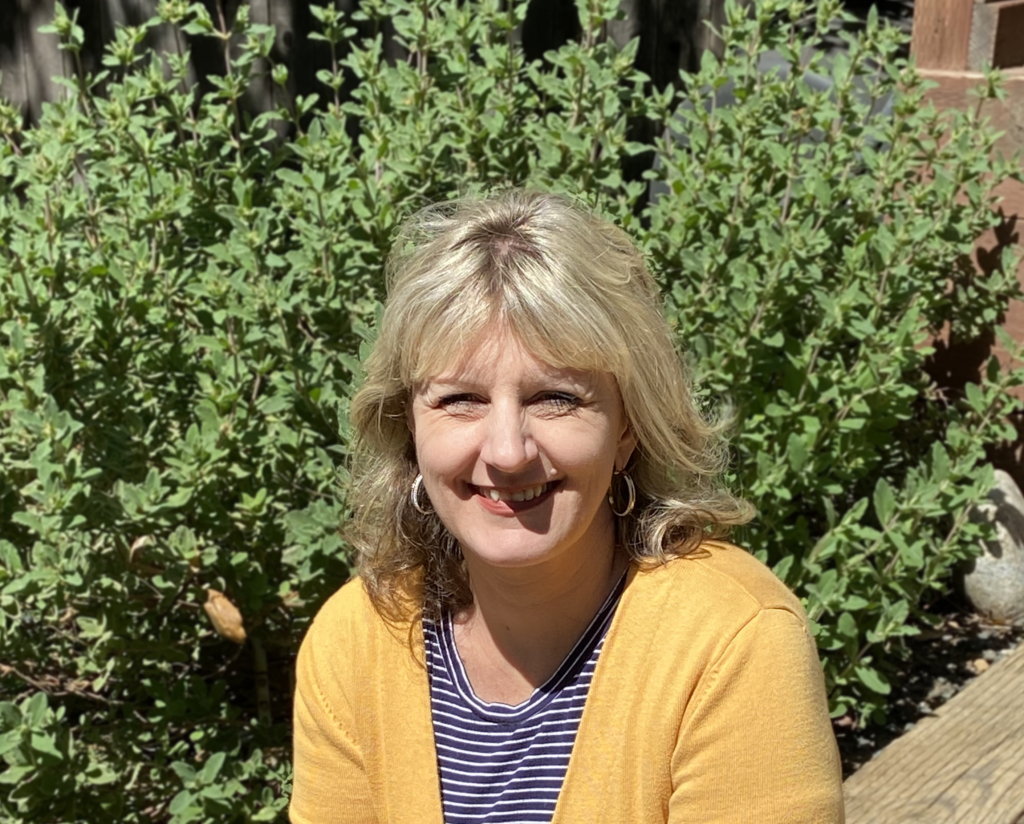 Stephanie Heintz
Licensed Marriage and Family Therapist (LMFT)
Stephanie (she/her) is a DBT- Linehan Board of Certification Certified Clinician, specializing in the utilization of Dialectical Behavior Therapy with those struggling with emotion dysregulation difficulties. Stephanie is passionate about assisting client's in their journey of healing to better understand and validate their emotional experiences as they build lives they really want to live.
Stephanie has 14 years of experience offering DBT treatment. She graduated from California State University, Bakersfield in 2005 with a graduate degree in Counseling Psychology. She was intensively trained in DBT in 2013 by Dr. Alan Fruzzetti. Stephanie has experience working in an outpatient community mental health setting, as well as a private practice setting. She is excited about the transformative work that can be accomplished with trauma survivors through the use of DBT-Prolonged Exposure. She was trained in this modality in 2011 by Dr. Melanie Harned and Dr. Kathryn Korslund. Stephanie also really enjoys working with family members of individuals diagnosed with Borderline Personality Disorder and has training and experience in offering Family Connections.
In her spare time, Stephanie likes to play in her hobby room paper crafting, designing scrapbooks and cards, and developing innovative props as teaching aids to teach DBT skills in a way that is fun and engaging.
Leah Nascimento
Licensed Marriage and Family Therapist (LMFT)
Leah (she/her) has specialized in working with adolescents and young adults, and has brought her talents to helping her clients gain healthy behaviors and learn how to manage their feelings, emotions and personal interactions within the DBT framework. Leah's positions as an associate – working in the Aspire program at El Camino Hospital and Momentum for Mental health – have been focused on assisting people to live meaningful lives.
After graduating from Santa Clara University with a Master's degree in Counseling Psychology, Leah completed a post-graduate program, The Summer Institute on Sexuality, Culture and Society, through the University of Amsterdam. Leah has also completed Foundational Training through Behavioral Tech.
Out of the office, Leah is a pianist who regularly performs around the Bay Area and enjoys teaching classical piano lessons at the San Jose Academy of Music.
Jen Dawn
Licensed Clinical Social Worker (LCSW)
Originally from Utah, Jen (she/her) went to graduated from UC Berkeley in 2004 with a Masters of Social Welfare and has been licensed since 2009. Jen has a well rounded background working with a large spectrum of the population from children to older adults. She has experience working with and helping people recover from depression, anxiety, PTSD, bi-polar disorder, schizophrenia and other serious mental illnesses, as well as working with clients struggling with substance use, homelessness, self-injury, trauma and child welfare.
Jen loves the assumptions of DBT, especially the idea that we are all doing the best we can with what we have AND we can all do better in our lives. Jen particularly enjoys working to improve social justice in our world both in the therapy office and out.
In her free time Jen is an avid rock climbing, snowboarder and outdoor enthusiast.
Samantha Embrick
Associate Clinical Social Worker (ASW)
Samantha (she/her) appreciates how DBT emphasizes a validating, nonjudgmental, and collaborative approach, while giving concrete skills to regulate emotions. She especially enjoys working with teens and young adults, using humor and authenticity to help identify their unique values & build a life worth living.
Samantha holds a Master's Degree in Social Work from Washington University in St. Louis, where she concentrated in mental health and specialized in sexual health and education. While in graduate school, Samantha worked in hospitals, supporting pregnant and postpartum women in building positive mental health coping skills.
Out of the office, Samantha enjoys painting, hiking, watching TV, and playing with her puppy, Hazel.
Samantha is currently working under the supervision of Tricia Mlnarik, LMFT #47605.
Kerianne Doi
Associate Marriage and Family Therapist (AMFT)
Kerianne (she/her) appreciates the balanced approach that DBT takes in understanding the need for both change and acceptance. Kerianne is passionate about collaborating with her clients, using humor and compassion to help people achieve their goals, reduce suffering, and build a life worth living.
Kerianne has extensive experience working in residential treatment settings with adolescent foster and probationary youth, as well as experience working in school-based settings with children. Kerianne holds a Master's degree in Clinical Psychology from San Jose State University.
In her free time, she enjoys being at the beach, hiking, and reading.
Kerianne is currently working under the supervision of Lori Wilkinson Rella, LMFT # 90194

Tristan Patel
Office Manager
Tristan (he/him) brings a passion for being helpful in any way possible, and strives to bring joy, compassion, and laughter into every day. Tristan has worked using behavior therapy with children in order to help make their lives and those of their family easier and more enjoyable. He is someone that always leaves room for people to surprise him, and notes that he has found positivity and patience with others yields the best results.
Tristin is studying psychology at San Jose State University and plans to continue with education with a  master's  degree program, with the ultimate goal of becoming a licensed marriage and family therapist.
In his free time Tristan enjoys spending time with those closest to him while watching movies, going to the beach, baking, and talking.